Resveratrol Youthful Aging 60 caps
Resveratrol Youthful Aging 60 caps
Free Shipping
On most orders over $200 within the continental USA
Details
Ingredients
Send to friend
Related Products
Customers Also Bought
Customer feedback
Resveratrol Youthful Aging 60 vcaps | Researched Nutritionals
Powerful antioxidant support for youthful, healthy aging.*
Longevity Antioxidant Formula
Resveratrol Youthful Aging™ combines the activated form of natural trans-resveratrol with red wine extract, green tea extract and grape seed extract. The research indicates that combining natural trans-resveratrol with other polyphenols provides greatest efficacy. 100% vegetarian product.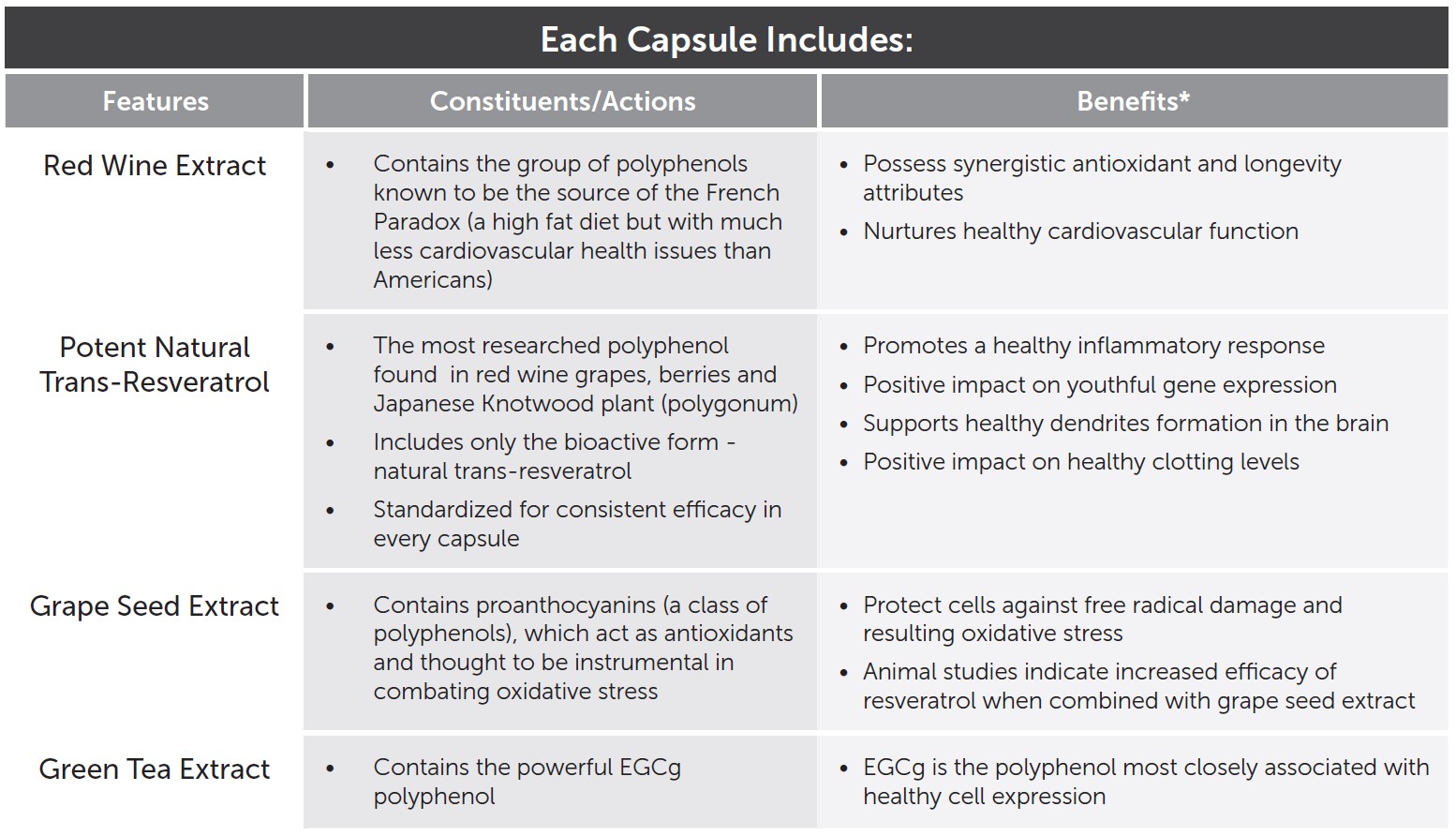 Resveratrol Aging 60 vcaps | Researched Nutritionals Aging

Free of: Milk, eggs, fish, crustacean shellfish, tree nuts, peanuts, wheat, soy, corn and gluten.
Vegetarian
Suggested Use: As a dietary supplement, take 2 capsules daily with or without food. Some research shows that resveratrol is best absorbed in the morning, away from dairy.
Cautions: If pregnant or nursing, consult your health care professional before use
*Your results may vary from those listed above.
*These statements have not been evaluated by the Food and Drug Administration.
*This product is not intended to diagnose, treat, cure or prevent any disease.
Since we do not know everything about your medical history and medications, please consult with your health care practitioner before implementing any new protocols and supplements. Do not construe any information listed on this site as a substitute for actual medical advice. The info you receive from us is not intended to replace medical advice by your doctor. Forrest Health, Inc. does not dispense medical advice, prescribe, or diagnose illness. We offer nutritional programs and supplements that support your health. The views and nutritional advice expressed by Forrest Health, Inc. are not intended to be a substitute for conventional medical service. If you have a medical condition, see your physician of choice.