C-RLA – Liposomal Vitamin 10 oz
C-RLA – Liposomal Vitamin 10 oz
Free shipping
On most orders over $300 within the continental USA
Details
Ingredients
Send to friend
Related Products
Customers Also Bought
Customer feedback
C-RLA – Liposomal Vitamin 10 oz | Researched Nutritionals
High Dose, High Absorption, GMO-free, Soy-free & Vegetarian
C-RLA™ offers doctors and their patients a safe, efficacious delivery system of High Dose Vitamin C and R-Lipoic Acid in one formulation. The sunflower-derived phospholipids (non-soy product for those with soy sensitivities) are GMO-free and 100% vegan.
Each serving contains 1500mg of Vitamin C and 70mg of R-Lipoic Acid in a natural (GMO-free) liposomal preparation. As most oral Vitamin C doses above 250mg are very poorly absorbed, the only efficacious high dose oral delivery system is via liposomes from natural phosphatidyl choline. Many doctors supplement in-office Vitamin C drips with C-RLA™ so the patients continue to receive the benefit of high-dose Vitamin C without stomach distress.
Lipoic Acid – a vital antioxidant
Lipoic acid helps protect against oxidative stress generated by high glucose levels. Alpha-lipoic acid consists of two different forms (isomers) that have vastly different properties. The "R" form is the biologically active component (native to the body) that is responsible for lipoic acid's phenomenal antioxidant effect. The "S" form is produced from chemical manufacturing and is much less effective. Typical alpha-lipoic acid supplements consist of the "R" and "S" form in a 50/50 ratio. Pure R-lipoic acid may be 10 times more effective than other forms of lipoic acid and has been called the "mitochondrial antioxidant" because it is a key component of mitochondrial dehydrogenase complexes. The pure R-Lipoic Acid in C-RLA™ supports a healthy inflammatory response and is a potent free-radical scavenger.*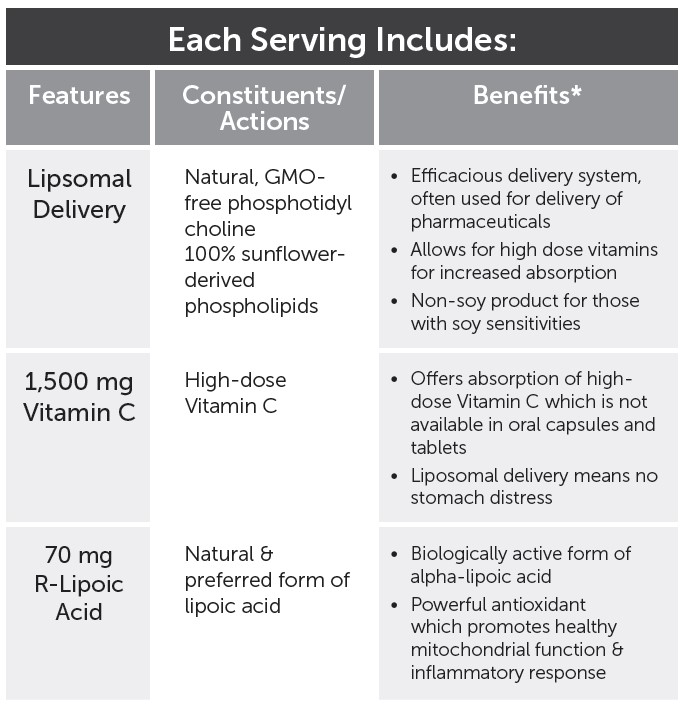 C-RLA 10 oz | Researched Nutritionals - Liposomal vitamin c with R-Lipoic acid
Free of: Milk, eggs, fish, crustacean shellfish, tree nuts, peanuts, wheat, soy, corn and gluten.
Vegan
Suggested Use: As a dietary supplement, take two teaspoons (10 mL) daily (optionally in water), away from food or as directed by your health care professional. Additional doses may be taken.
Shake well before use.
Refrigerate after opening.
Cautions: If pregnant or nursing, consult your health care professional before use
*Your results may vary from those listed above.
*These statements have not been evaluated by the Food and Drug Administration.
*This product is not intended to diagnose, treat, cure or prevent any disease.
Since we do not know everything about your medical history and medications, please consult with your health care practitioner before implementing any new protocols and supplements. Do not construe any information listed on this site as a substitute for actual medical advice. The info you receive from us is not intended to replace medical advice by your doctor. Forrest Health, Inc. does not dispense medical advice, prescribe, or diagnose illness. We offer nutritional programs and supplements that support your health. The views and nutritional advice expressed by Forrest Health, Inc. are not intended to be a substitute for conventional medical service. If you have a medical condition, see your physician of choice.