Boluoke Lumbrokinase
Free shipping
On most orders over $300 within the continental USA
Details
Ingredients
Send to friend
Customers Also Bought
Customer feedback
FAQ
Boluoke Lumbrokinase - 60 caps | Canada RNA
Boluoke® (lumbrokinase) is the only fully researched oral fibrinolytic supplement on the market. Besides having in vitro studies, animal studies, toxicity studies, and pharmacokinetic studies done, Boluoke® has also been put through all phases of clinical trials (including randomized double blind controlled studies) in China. Lumbrokinase has been studied as a treatment for various clinical conditions, including acute, sub-acute, and chronic conditions that are associated with the presence of hypercoagulation and hypoperfusion.*
Lumbrokinase is a more potent enzyme preparation than nattokinase. One of the advantages of Boluoke® (lumbrokinase) is that it does not interfere with the clotting cascade, but instead, works by reducing fibrinogen and fibrin. Boluoke® does not affect INR or aPTT, thus is compatible with Coumadin® or heparin.*
Boluoke® vs. Other Lumbrokinase Products*
Comparing other lumbrokinase products to Boluoke® is like comparing apples and oranges. Boluoke®'s enzymatic strength is standardized against urokinase and t-PA. The imitation products are likely just earthworm protein extract containing little pure lumbrokinase or lumbrokinase of low enzymatic strength. Some companies are making products with 230mg to 250mg of lumbrokinase per capsule and trying to quote Boluoke®'s research as their own. Boluoke®'s capsules are of 200mg in size, and contain 20mg of lumbrokinase inside each capsule. Most of these other lumbrokinase are unable to distinguish between the weight of the capsule (i.e. 250 mg) and the active lumbrokinase per capsule (Boluoke® is 20 mg).*
Boluoke® is the only fully researched oral fibrinolytic supplement on the market. Besides having in vitro studies, animal studies, toxicity studies, and pharmacokinetic studies done, Boluoke® has also been put through all phases of clinical trials (including randomized double blind controlled studies) in China. Boluoke® is the only Lumbrokinase that is backed by Phase I – III clinical trials in China, the one that is first used in hospitals in China, and covered by the Chinese National Fundamental Health Insurance.*
A common question we receive is about potential side effects of Boluoke®. The earthworm has been used in Traditional Chinese Medicine for a few thousand years, and is considered to be one of the safest medicines in the traditional pharmacopoeias. In one of the largest clinic trials of Boluoke® involving 16 hospitals and 1560 patients in China, the overall adverse reaction rate was 1.92% (30 cases). 0.58% had skin itching, 0.19% had skin rash, and 1.15% had nausea or diarrhea; no hemorrhage or major side effect was reported. Again, this research pertains only to Boluoke®.*
It is interesting that other lumbrokinase products cite the clinical results achieved with only Boluoke®, confusing the reader into assuming that the research was done on their formulations. However, their products may be very different, and your patients may have very different results.*
On the raw material market, the price of lumbrokinase can vary by up to 15 fold, and the enzymatic strengths of various Lumbrokinase also differ greatly. In addition, lumbrokinase is a preparation containing multiple enzyme fractions, and the extraction and purification method determines the composition of the various enzyme fractions. Thus different extraction methods will produce different sub-fractions of lumbrokinase. This is the reason why Boluoke® does not significantly change prothrombin time (PT) or activated partial thromboplastin time (aPTT), while other lumbrokinase sources may significantly alter PT or aPTT as shown in studies. No other lumbrokinase product can provide you with this assurance.*
Boluoke® seems to be beneficial for any illness that has an accompanying hypercoagulable blood state, which has been shown to be present in many chronic illnesses. Some practitioners are also recommending Boluoke® for those who choose to be on hormone replacement therapy or birth control pills, and for those who could not tolerate standard preventative pharmaceutical drugs.*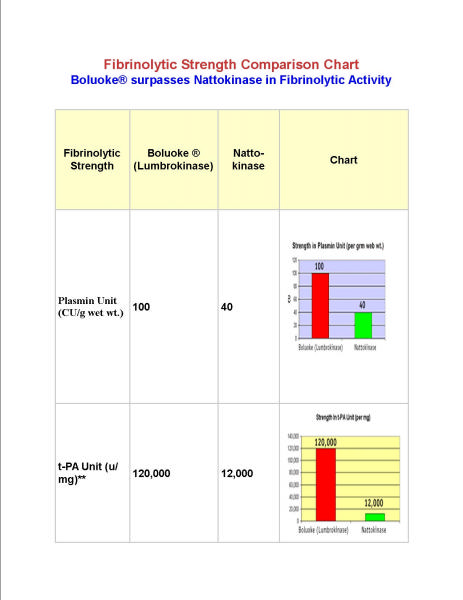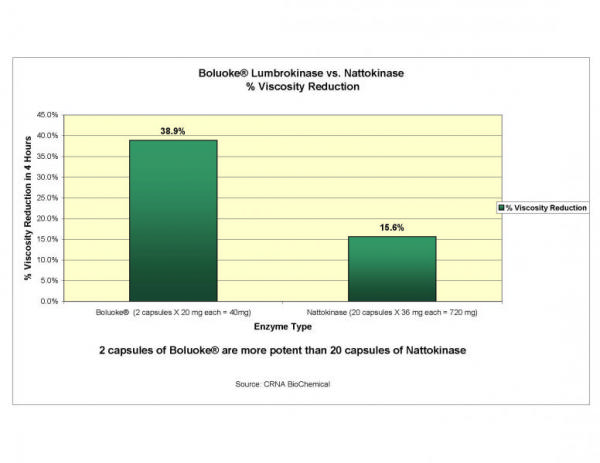 Boluoke Lumbrokinase - 60 caps | Canada RNA
Supplement Facts:
Each tablet contains:
Lumbrokinase - 20mg
(Proprietary earthworm protein extract)
Other Ingredients: cornstarch, gelatin.
Recommended Use:
Adults: Take 1 capsule one to three times daily 30 minutes before meals. If maximal fibrinolytic effect is desired, take 2 capsules three times daily 30 minutes before meals for 3 weeks or consult your physician for optimal dosage.
Warning:
Please consult your physician before taking this product or any other health supplement, especially if you are on any prescription medicine, are pregnant or have bleeding risks. People with known allergy to lumbrokinase should not take this product. Keep out of the reach of children
Suggested Use
If Boluoke is to be taken for chronic conditions, it should be taken at the dose of 1 capsule one to three times daily 30 minutes before the meal. However, the practitioner may recommend 2 capsules three times daily for 3 to 6 weeks in conditions with severe hypoperfusion. The therapeutic dose for children (according to the manufacturer)is 1 capsule per 8Kg (about 17 pounds) per day. If the lumbrokinase is emptied out from the capsule, still try to take the powder on an empty stomach.
Boluoke FAQ

How long before surgery should patient stop taking Boluoke?
The conservative approach is to stop Boluoke 1 week prior to surgery. The patient may resume taking Boluoke 15 days after surgery if no complication or earlier if the physician deems appropriate.

Can Boluoke be safely taken if the patient is on blood thinning agents?
Boluoke does not significantly affect blood tests like PT and aPTT (thus it does not affect INR). However, patients should always consult their physicians before taking Boluoke while on any prescriptions.

Can the content of Boluoke capsules be emptied out and taken without the capsules?
The capsules used in Boluoke are enteric coated capsules. They are designed to resist stomach acid and dissolve in the small intestines, because lumbrokinase may be inactivated by stomach acid. Preliminary in-house tests using Sonoclotmachine (manufactured by Sienco, Inc.) indicated that Boluoke is still effective when taken without the capsules on an empty stomach. However, it is highly recommended that the patients take Boluoke in its original capsulated format whenever possible.

What are the contra-indications for taking Boluoke?
Contra-indications for Boluoke are: allergy to lumbrokinase or earthworm; recent surgery; pre-surgery; lumbar puncture or arterial puncture; trauma; active internal bleeding or GI ulceration; any other bleeding disorders/tendencies. Patients should always consult their physicians before taking Boluoke.

Does Boluoke have any side effects?
The earthworm has been used in Traditional Chinese Medicine for a few thousand years, and is considered to be one of the safest ingredients in the traditional pharmacopoeias. The studies on Boluoke showed that when taken at high dosage, some people may experience nausea, diarrhea, bloating, skin itch/rash, which resolved when the product was stopped.

Can Boluoke be taken with other enzyme products?
There is a theoretical possibility that Boluoke may be cleaved and rendered ineffective by other enzymes, so we currently do not recommend taking Boluoke with another enzyme product at the same time. If you do have to take other enzyme products while on Boluoke, try to space more time between the dosing of the two enzyme products (i.e. at least 2 hours).

How is Boluoke different from other products that
contain lumbrokinase?
Boluoke is the only lumbrokinase that has been thoroughly researched and its enzymatic strength is standardized. Other lumbrokinase products currently on the market often are citing Boluoke
*Your results may vary from those listed above.
*These statements have not been evaluated by the Food and Drug Administration.
*This product is not intended to diagnose, treat, cure or prevent any disease.
Since we do not know everything about your medical history and medications, please consult with your health care practitioner before implementing any new protocols and supplements. Do not construe any information listed on this site as a substitute for actual medical advice. The info you receive from us is not intended to replace medical advice by your doctor. Forrest Health, Inc. does not dispense medical advice, prescribe, or diagnose illness. We offer nutritional programs and supplements that support your health. The views and nutritional advice expressed by Forrest Health, Inc. are not intended to be a substitute for conventional medical service. If you have a medical condition, see your physician of choice.