ATP Fuel 150 vcaps
Free shipping
On most orders over $300 within the continental USA
Details
Ingredients
Send to friend
Related Products
Customers Also Bought
Customer feedback
ATP Fuel | Researched Nutritionals
Supports Energy for increased Mitochondrial Function*
Optimized Energy for Serious Mitochondrial Needs
ATP Fuel® was formulated to promote healthy mitochondrial membrane function and maximize the Krebs cycle of cellular energy production.
The NT Factor® Energy portion of this product is our unique phospholipid (i.e. choline, serine and other lipids) delivery system which nurtures the body's mitochondrial membrane repair process, promoting healthy mitochondrial function and healthier oxidative stress levels. The Krebs Energy Foundation™ features stabilized NADH and CoQ10 to maximize cellular energy levels.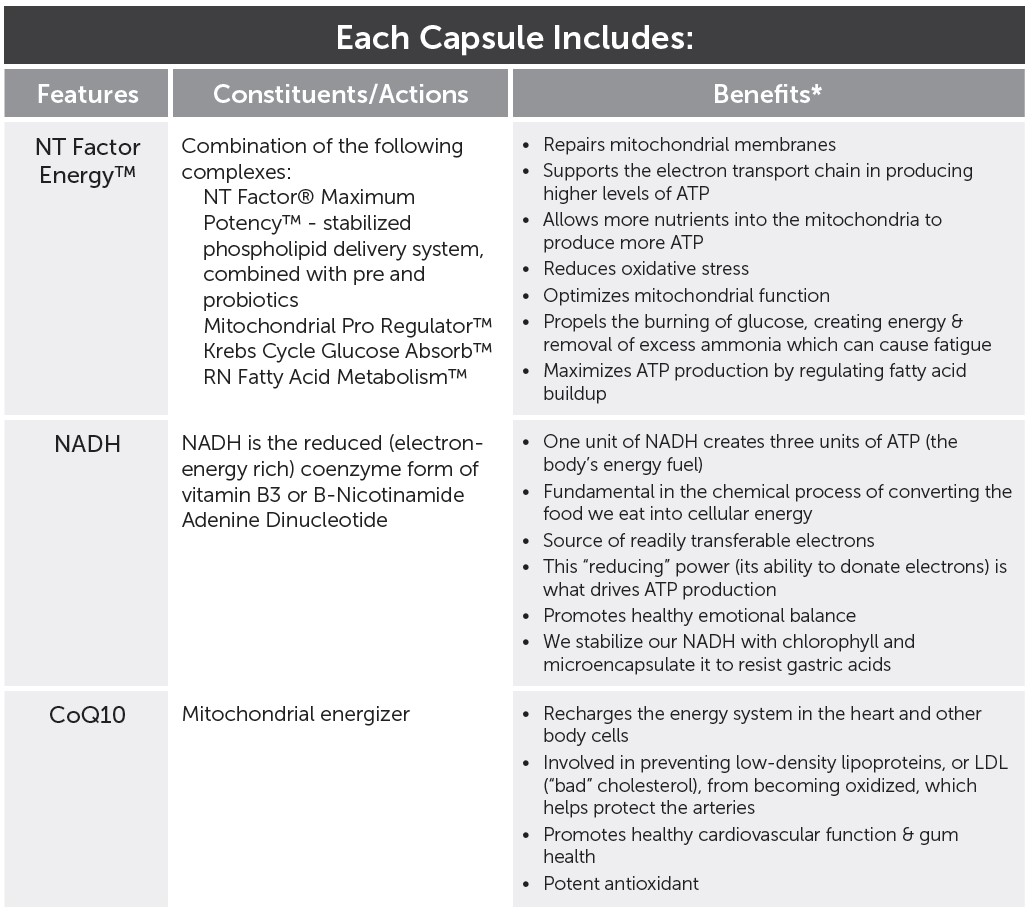 ATP
Complementary Products:
Transfer Factor Multi-Immune™ -Comprehensive immune support formula, promoting healthy natural killer cells, macrophage, T-cells, and cell division.*
Tri-Fortify™ - NEW-Liposomal Glutathione.*
Energy Multi-Plex™ - Adrenal Support Formula with 14 researched nutrients.*
ATP Fuel | Researched Nutritionals


Suggested Use:
Take five capsules 30 minutes before breakfast and five capsules before lunch or dinner (ten capsules per day) for the first two months, and five capsules before breakfast in month 3 and beyond. It is important to keep with the protocol for the first two months so that enough cell membranes are repaired --- which will allow the patient to feel the difference. This equates to 2 bottles per month for each of the first two months, and 1 bottle per month thereafter.
Free of milk, egg, fish, peanuts, crustacean shellfish, tree nuts, wheat, yeast, gluten, corn, artificial sweeteners, artificial flavors and artificial colors.

This product does contain ingredients derived from soy
*Your results may vary from those listed above.
*These statements have not been evaluated by the Food and Drug Administration.
*This product is not intended to diagnose, treat, cure or prevent any disease.
Since we do not know everything about your medical history and medications, please consult with your health care practitioner before implementing any new protocols and supplements. Do not construe any information listed on this site as a substitute for actual medical advice. The info you receive from us is not intended to replace medical advice by your doctor. Forrest Health, Inc. does not dispense medical advice, prescribe, or diagnose illness. We offer nutritional programs and supplements that support your health. The views and nutritional advice expressed by Forrest Health, Inc. are not intended to be a substitute for conventional medical service. If you have a medical condition, see your physician of choice.