PlusCBD Softgels 15mg CBD
PlusCBD Softgels 15mg CBD
Free shipping
On most orders over $300 within the continental USA
Details
Ingredients
Send to friend
Related Products
Customers Also Bought
Customer feedback
PlusCBD Softgels 15mg CBD
Award winning Extra Strength Softgels are the industry standard and best-selling hemp CBD softgels for over 5 years. Our patented precision molecular distillation process concentrates the pure power of hemp directly into the most celebrated 15mg CBD softgel on earth.
Filled with our Extra Strength Formula full spectrum hemp extract, these award-winning CBD pills are our most concentrated way of taking CBD-rich hemp extracts.

Our CBD Softgels are beautiful in their simplicity.

Just 4 ingredients: CBD-rich hemp extract made of modified corn starch, extra virgin olive oil as the carrier, carrageenan, sorbitol, and in a vegetarian softgel capsule. It's an ideal method for sensitive palates or sensitive stomachs.

Our Extra Strength Formula hemp extract is what makes these our most concentrated way to consume CBD-rich hemp extracts. It takes 10 kilograms of our regular extract, distilled down to produce just 3 kilograms of our concentrated Extra Strength Formula extract. This cbd supplement is ideal for people who realize that they need higher levels of daily CBD for their health.

As for all our CBD products, everything is produced from full spectrum hemp - complete with all the cannabinoids, terpenes, fatty acids, and other healthful components that occur in the hemp plant.

Always from EU certified hemp seeds. Non-GMO. Vegetarian. Gluten-Free. Always third party tested. Try our CBD Oil softgels today to see why we're America's favorite hemp company.
SUGGESTED USE
Each softgel with our Extra Strength Formula extracts contains 15 milligrams of CBD. Most people start with one in the morning and one in the evening - but everyone is different. With finding CBD uses, you have to experiment to find the sweet spot that works for you.

Some find that a CBD pill is just the thing before bed - while others find it activating and never take it after a certain time of day. And some find that it doesn't change their sleep or energy in any way. There's no way to know which category you fall into without finding out what works for you.
BENEFITS OF PLUSCBD SOFTGELS
The biggest benefit of using our concentrated Extra Strength Formula CBD Softgels is the convenience of getting that much full spectrum hemp extract into your system.

Humans all share an endocannabinoid system. The reason we cultivated cannabis so early in our history is because it agrees with us. It's not only CBD and the minor cannabinoids. It's not only the terpenes that give the plant its rich smell and change how we interact with the cannabinoids, it's all of them working together in an entourage effect. It's also because of the rich fatty acids, more abundant in the true agricultural hemp that we use. These fatty acids from the plant are used to produce its cannabinoids - and they're also used by our own brain and bodies to produce our own endocannabinoids.

CBD-rich full spectrum hemp extracts help balance our endocannabinoid system for health. Our CBD softgel pills are an excellent dietary supplement that can be taken daily to support your overall health and well-being by unlocking all of these CBD benefits.
PlusCBD Softgels 15mg CBD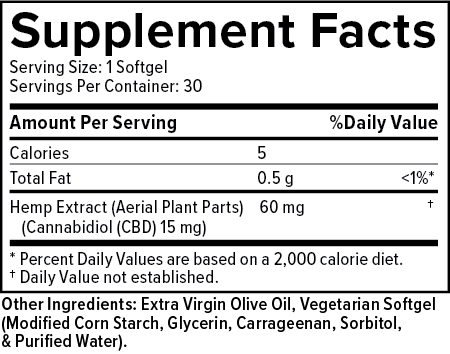 *Your results may vary from those listed above.
*These statements have not been evaluated by the Food and Drug Administration.
*This product is not intended to diagnose, treat, cure or prevent any disease.
Since we do not know everything about your medical history and medications, please consult with your health care practitioner before implementing any new protocols and supplements. Do not construe any information listed on this site as a substitute for actual medical advice. The info you receive from us is not intended to replace medical advice by your doctor. Forrest Health, Inc. does not dispense medical advice, prescribe, or diagnose illness. We offer nutritional programs and supplements that support your health. The views and nutritional advice expressed by Forrest Health, Inc. are not intended to be a substitute for conventional medical service. If you have a medical condition, see your physician of choice.