Calm Gummies Hemp Extract 10 mg 30 ct
Calm Gummies Hemp Extract 10 mg 30 ct
Free shipping
On most orders over $300 within the continental USA
Details
Ingredients
Send to friend
Related Products
Customers Also Bought
Customer feedback
Calm Gummies Hemp Extract 10 mg 30 ct | PlusCBD
- For daily stress support
- Made with sustainable hemp 10 mg of CBD per gummy
- Doctor formulated Clinically researched active ingredients
- With L-Theanine and 5-HTP Organically sweetened
- No artificial flavorings
PlusCBD Calm Gummies help ease tension, soothe irritability, and contribute to a greater sense of contentment. We combined 10 mg of CBD from our award winning hemp extract with clinically researched ingredients like L-Theanine (found in green tea) and 5-HTP (a precursor of serotonin) to support a healthy stress response.*
Daily life provides plenty to stress over (work demands, pressure around social obligations, and uncertainty about stepping into the "new normal") all of which can make it hard to feel and perform your best. PlusCBD Calm Gummies support a sense of relaxation and a positive mood to help with occasional irritability and anxiousness. Soothing nerves and easing tension, these tasty gummies can promote a healthy stress response, so you can better respond to whatever life throws your way.
These delicious strawberry lemonade CBD gummies are naturally flavored, sweetened with organic cane sugar, and feature a satisfying chewy texture.
Calm gummies are made with our premium hemp extract, expertly processed using non-toxic CO2 and manufactured in our cGMP certified facility. Our gummies are third party lab tested to verify safety and consistency, so you can feel comfortable using them every day.
PlusCBD Calm Gummies are doctor formulated with clinically researched ingredients like L-Theanine for a Zen-like calm and 5-HTP for a positive mood and mental well being. Calm Gummies offer relaxation without intoxication, so you don't need to worry about them impairing your ability.
Calm Gummies 10 mg 30 ct | PlusCBD
Servings Per Container: 30
Enjoy one gummy with or without food daily or whenever you are feeling out of sorts. PlusCBD Calm Gummies are safe for extended daily use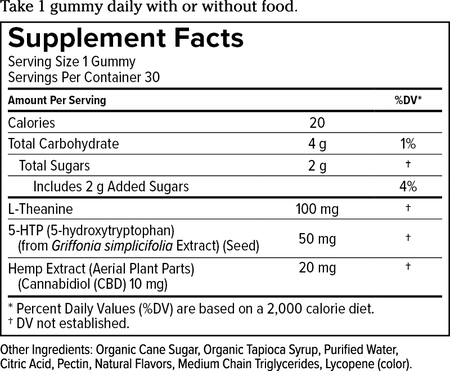 *Your results may vary from those listed above.
*These statements have not been evaluated by the Food and Drug Administration.
*This product is not intended to diagnose, treat, cure or prevent any disease.
Since we do not know everything about your medical history and medications, please consult with your health care practitioner before implementing any new protocols and supplements. Do not construe any information listed on this site as a substitute for actual medical advice. The info you receive from us is not intended to replace medical advice by your doctor. Forrest Health, Inc. does not dispense medical advice, prescribe, or diagnose illness. We offer nutritional programs and supplements that support your health. The views and nutritional advice expressed by Forrest Health, Inc. are not intended to be a substitute for conventional medical service. If you have a medical condition, see your physician of choice.