EOS Revelation 2 TURBO Undersink Water Ionizer and Alkalizer
EOS Revelation 2 TURBO Undersink Water Ionizer and Alkalizer
Free Shipping
On most orders over $200 within the continental USA
Details
Ingredients
Send to friend
Related Products
Customers Also Bought
Customer feedback
EOS Revelation 2 TURBO Undersink Water Ionizer and Alkalizer
Ships for Free
Engineered by EOS Hi Tech, the state of the art Revelation 2 Undersink Water Ionizer is a welcomed innovation in the area of water ionization. Compact design makes for a powerful addition to practically any kitchen of any size. Enhanced performance capabilities make it possible to clean and ionize all types of water.
New! Turbo Button. One simple push creates the strongest pH water for cooking and disinfecting.
Nine Platinum-Titanium Plates. With patented EOS slotted plate technology.
325 watts.The power necessary to ionize virtually any US water.
SMPS Electrical System. Reduces heat and increases ionization precision.
76 pH Levels.More than any other water ionizer! Customizability to fit any water.
7 Color LCD Screen. Displays pH, ORP, filter life, and more.
16 Stage Filter System. Best in the industry. Cleans and revitalizes water before it is even ionized! Sulphite free.
Unsurpassed Design. Designed by top EOS engineers to look great and perform better than any other water ionizer.
Automatic Cleaning System. Industry leading. Senses contaminants on plates and only cleans when necessary, so water and energy aren't wasted.
5 Year Parts, Labor, and Shipping Warranty, Lifetime Warranty on Plates. Some companies are offering so-called Lifetime warranties. They are very limited. Our warranty is unlimited and covers everything for five years!
60 Day Money Back Guarantee. If not totally satisfied, return it within 60 days for a refund minus the industry standard 15% restocking fee.
The Revelation 2 Undersink Water Ionizer Operation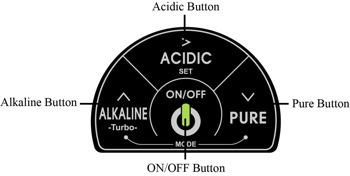 The Revelation 2 Undersink Water Ionizer has all the functionality of the Genesis Platinum, but with all the controls built right into the spigot. Then it adds two more plates for increased power and puts all the filtration and electronics under your sink and out of your way.
The Revelation 2 Faucet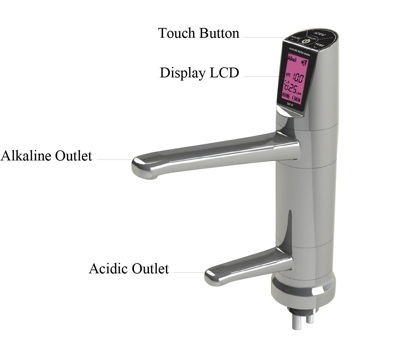 The Revelation 2 faucet is designed for ease of use. It has two movable arms to dispense alkaline and acid water. When you select an alkaline level, the alkaline water comes out of the top arm, while the acid water comes out out of the bottom arm, making collection of both waters simple! Simple controls make using the Revelation 2 a breeze!

There are four levels of alkaline water, four levels of acid water, and a pure water button. To select the level of alkaline water you want, simply push the ALKALINE button until the pH you want is displayed, then press "on" to get that water. Want acid water? Just press the ACID button. Want filtered-only water? Just press the PURE button! Want TURBO water? Hold down the alkaline water button for five seconds and you'll get the strongest alkaline and acid water instantly!
The Revelation 2 Base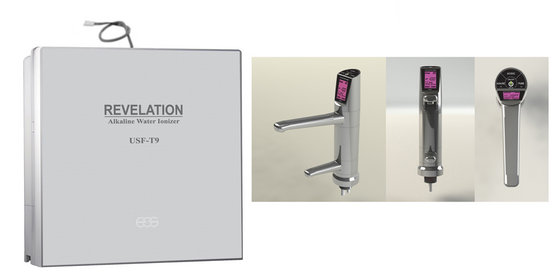 The Revelation base sits under your sink. It houses two filters, nine plates, and the electrical system. There is an inlet for plugging in the power cord. Underneath the base there are inlets for connecting the alkaline and acid water tubes. Installation is simple, please watch the installation video in the product videos tab.
EOS Revelation TURBO Undersink Water Ionizer and Alkalizer
Genesis Water Ionizer, the new standard for water ionizers. Dual filtration, SMPS electrical system, extra large platinum titanium mesh plates, touch screen with automatic water flow control, water filter contamination sensors, voice prompts, auto-diagnosis system, and more.
EOS Water Ionizers produce medical grade ionized water, which peer reviewed research has shown has tremendous health benefits for you and your family. Using water electrolysis to create alkaline, ionized water is the only way to restore water's naturalantioxidant - hydroxl ions.
Natural water, like from a spring or a glacial stream, is full of ions from the sun. These ions combine with hydrogen to form hydroxl ions, which neutralize free radicals in our body and detoxify us. But when we take natural water and put it in a tank like at a municipal water treatment plant, or in a bottle, those ions fizzle out and we are left with dead, acidic water with no antioxidants.
Dead, acidic water takes important nutrients and minerals from our body, and builds up acidic waste, leading to a condition called acidosis. Acidosis starts with muscle aches, poor digestion, poor sleep pattern and irritability, and progresses to adult onset diseases like arthritis, pulmonary disease, and even cancer.
Conversely, alkaline, ionized water as part of an alkaline diet full of alkaline food cleanses the free radicals from our body, neutralizes acid waste with its alkaline properties, and hydrates us three times better than tap or bottled water!
The only way to bring dead water back to life is through water electrolysis and no water ionizer manufacturer on the market does it better than EOS! Plus EOS Water Ionizers havemedical grade water filtration to remove all the dangerous impurities from your water.
EOS Water Ionizers, like the Genesis Platinum and Genesis Equus, and Revelationdistributed by Water for Life USA, are the best health investment for you and your family. Our water ionizers are KFDA approved as a medical device, FDA listed, NRTL certified for electrical safety, have patented slotted plate technology from the top metal company in Japan, and are backed by an unconditional 5 year parts, labor, and shipping warranty and 60 day money back guarantee.
Have questions? Call 877-255-3713 or email us. We have knowledgeable staff waiting to hear from you!
Product Specifications:
* Spigot: 10.25 inches tall, 2.25 inches wide

* Base: 15.25 inches tall, 11 inches wide, 6 inches deep

* Weight: 14 pounds

* Flow rate: 2.0 to 4.0 liters per minute

* pH Range: 1.5 to 12.5 (depending on source water)
What's in the box?
* Spigot

* Base

* 5/16 inch hose for alkaline water

* 1/4 inch hose for acidic water

* Cold Water Line Diverter Valve

* Power Cord

* Manual

* pH Testing Drops
US Food and Drug Administration
Center for Devices and Radiological Health
Office of Compliance
Registration and Listing
10903 New Hampshire Avenue
WO66 Room 2621
Silver Spring, MD 20993-0002
Dear Owner/Operator and/or Official Correspondent:
This email is being sent to inform you that a registration number has been assigned to the following establishment:
EOS HITECH CO., INC
223 Saje-ri, Hungeop-myeon
Wonju
KOREA, REPUBLIC OF 220-843
Registration Number: 3008332443
Owner Operator Number: 10032025
If you have any questions or need assistance, please contact CDRH Registration and Listing Office by email at reglist@cdrh.fda.gov.
Center for Devices and Radiological Health
Reviews
There have been no reviews for this product.
*Your results may vary.
Your results may vary from those listed above.
These statements have not been evaluated by the Food and Drug Administration.
This product is not intended to diagnose, treat, cure or prevent any disease.
Since we do not know everything about your medical history and medications, please consult with your health care practitioner before implementing any new protocols and supplements. Do not construe any information listed on this site as a substitute for actual medical advice. The info you receive from us is not intended to replace medical advice by your doctor. Forrest Health, Inc. does not dispense medical advice, prescribe, or diagnose illness. We offer nutritional programs and supplements that support your health. The views and nutritional advice expressed by Forrest Health, Inc. are not intended to be a substitute for conventional medical service. If you have a medical condition, see your physician of choice