Cardiokinase with Nattokinase 90 gles
Cardiokinase with Nattokinase 90 gles
Free Shipping
On most orders over $200 within the continental USA
Details
Ingredients
Send to friend
Customers Also Bought
Customer feedback
Cardiokinase w/ Nattokinase 90 gels | Iagen Biologics -
An Award Winning & Professional Grade Cardiokinase™ from IAGEN Biologics features the latest and most powerful Nattokinase available.
Improves Heart Health & Circulation*
Naturally Dissolves Harmful Blood Clots with enzymes*
Promotes Positive Effects On Blood Pressure Levels*
Decreases Sore, Aching Muscles*
100% All-Natural & Proven Safe

Cardiokinase Information
Nattokinase (pronounced nat-oh-KY-nase), is an enzyme that is extracted from the fermented soy food called "natto." Natto is regarded by the Japanese as a very healthy food and has been consumed there for centuries. Nattokinase, however, has only recently been discovered, isolated and investigated. Cardiokinase brand nattokinase contains the strongest strain of nattokinase and confers several important cardiovascular health benefits.

The soybeans used for the Cardiokinase Nattokinase extract are organically grown (Non-GMO) in the United States under USDA standards.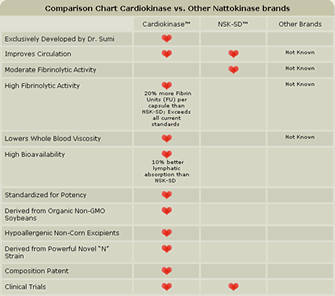 What Makes Cardiokinase The Best Nattokinase?
Cardiokinase contains a new kind of Nattokinase even more potent than the original (NSK-SD®). Cardiokinase incorporates a new strain ("strain N") of Bacilius Substilisin that produces higher activity than other strains. This new nattokinase and is the strongest and safest nattokinase available.

Cardiokinase contains an unprecedented high activity of nattokinase, more than 200% the effectiveness of other nattokinase products. Simply put, if it's not Cardiokinase, you're not getting the best.

So when it's difficult to tell the difference between one nattokinase and another, trust the one that's been tested, proven and is more effective.

"Cardiokinase has literally created a new standard for the nattokinase market. The bar is raised so high that such an achievement can only be accomplished by the researcher who discovered the original nattokinase, Dr. Sumi. It should be appropriate that Dr. Sumi himself did all the scientific development of this new substance in Cardiokinase and the only nattokinase on the market that has his stamp of approval."

What is Cardiokinase®?
Award Winning Cardiokinase features a new patented nattokinase. Nattokinase is an enzyme that is extracted from the traditional Japanese soy food called "natto." Nattokinase was first discovered by Dr. Hiroyuki Sumi, PhD. Natto has been used traditionally to support cardiovascular health. Modern research has revealed that nattokinase works by breaking down fibrin, a protein involved in clotting of the blood.*


What makes Cardiokinase® Different?
Cardiokinase® is produced by IAGEN Biologics, a brand sold through licensed health care Professionals and by Doctors. IAGEN Biologics represents one of the premier brands available today. Cardiokinase® stands apart by using only 100% New, more powerful and reliable Nattokinase.

Hypertension is among the many illnesses associated with an unhealthy lifestyle. When left untreated, hypertension can contribute to the formation of atherosclerosis. Hypertension and atherosclerosis are the key risk factors to cerebrovascular and cardiac disease.

In 1980, Dr. Hioryuki Sumi discovered that "natto," a traditional fermented food in Japan, possesses previously unidentified thrombolytic activity. He referred to the isolated enzyme as nattokinase. Although nattokinase is not new to the marketplace, there is a new strain that exhibits some exceptional improvements over the original. It should be appropriate then that Dr. Sumi himself set the new bar with the scientific development on this new substance. We will highlight some of the key advancements that clearly delineate it from any other nattokinase on the market. This new product is called Cardiokinase (CK).


New Nattokinase Information
1. CK utilizes a new standardization for fibrinolytic activity which is more sensitive and specific to nattokinase activity. Originally, the Fibrin Unit (FU) method was created for the sake of convenience. Because fibrin, which is insoluble in water, is used as the substrate, accurate measurement of the enzyme reaction is not possible through this method. Therefore, to accurately measure the potency of CK, International Units (IU) are required to quantify the results of the enzyme activity.

2. Cardiokinase incorporates a new strain ("strain N") of Bacilius Substilisin that produces higher activity than other strains. In particular, the cultured solution of the CK (N strain), displayed activity that was 17.9 times greater that of the control. Furthermore, fibrinolytic activity was also observed in the bacteria itself, and the activity on the N strain elevated to a level that was 70 times as much as the control. The therapeutic benefit of this type of activity on human cells is the promotion of the release of tissue-plasminogen activator (t-PA). t-PA is a protein involved in the breakdown of blood clots – it catalyzes the conversion of plasminogen to plasmin, the major enzyme responsible for clot breakdown.

3. In addition to t-PA, CK has demonstrated a new mechanism of action involving fibrinolytic pharmacokinetics. This new strain of nattokinase has shown for the first time that is has a higher kinin-producing capacity than plasma kininogen. The physiological activities of kinin (and its products like bradykinin) include lowering blood pressure, promotion of capillary permeability, local vasodilation, smooth muscle contraction, promotion of lymph flow, and inflammatory modulation. This kinin-producing activity is involved in the circulatory systems of all internal organs.

Cardiokinase's hypotensive and circulation-improving effects have the potential to replace other more invasive and ADR-promoting medications in the conventional and alternative marketplace.

4. Another novel characteristic of CK is its anti-viscogenic effect. No other natural substance has demonstrated the ability to quantitatively lower blood viscosity as CK has. The applications of this attribute alone make CK one of the most useful therapies in even the most serious cardiovascular conditions.

5. Lastly, unlike other commercial sources of nattokinase, Cardiokinase incorporates a non-corn source of maltodextrin, making it the most hypoallergenic source of nattokinase on the market.

Cardiokinase w/ Nattokinase 90 gels | Iagen Biologics

Dietary Supplement

Supplement Facts
Serving Size: 3 Softgels
Servings per Container: 30

Each 100 mg Softgel contains:
Nattokinase (Strain N)
(extract from organically (non-GMO) grown soybeans in the United States) 25 IU

Other Ingredients: Gelatin and Glycerin (Softgel), Soybean oil, Glycerin fatty acid ester, Bees wax.

Suggested Use: As a dietary supplement, take three softgels daily 6 hours apart. For best results, take an additional capsule at bedtime.

If you are pregnant or breastfeeding, or taking prescription medications, consult with your health care professional before using this product

No gluten, milk, derivatives or artificial colors or flavors. Contains soy.
Reviews
There have been no reviews for this product.
*Your results may vary.
Your results may vary from those listed above.
These statements have not been evaluated by the Food and Drug Administration.
This product is not intended to diagnose, treat, cure or prevent any disease.
Since we do not know everything about your medical history and medications, please consult with your health care practitioner before implementing any new protocols and supplements. Do not construe any information listed on this site as a substitute for actual medical advice. The info you receive from us is not intended to replace medical advice by your doctor. Forrest Health, Inc. does not dispense medical advice, prescribe, or diagnose illness. We offer nutritional programs and supplements that support your health. The views and nutritional advice expressed by Forrest Health, Inc. are not intended to be a substitute for conventional medical service. If you have a medical condition, see your physician of choice